Electricity by the product?
Testing electronic products on the assembly line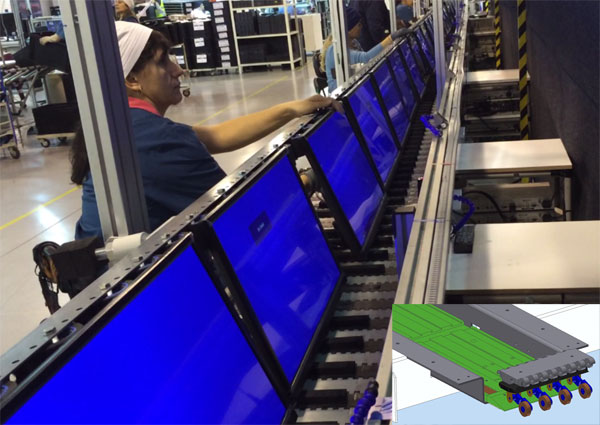 A company which assembles electronic products must also carry out various tests on these products. In this case the client assembles LCD and Oled TVs (in Argentina). Until recently these products were transferred after assembly to carriers with electric sockets or put in racks where they could be tested.
Together with BCK Holland IPA-International applied the Lean principle optimally. The result was a module chain conveyor with an internal power system. Therefore, the construction/assembly and functional testing can be carried out on one transport system without the product being handled. The chain material has electric sockets, so the electronic products can be connected easily.
This transport system is very cost-effective
no manipulation of the product
no expensive attachments necessary
no chance of damage
eliminates labor which does not contribute of the value of the product
There are various versions possible
current in the belt, none, grounded
switch-over to different voltages
part of the transporter with current
other dimensions of the belt, etc.